Softfixer Online Exam software Has Everything  That You Need For Your Students
Real online exam software scenarios for IIT JEE Main, Advanced, NEET, Gate, IAS, SSC, Banking & other exams. Using Softfixer online exam software you can create high-stakes exams or practice exams using 4 simple steps. You can directly upload questions from word or Pagemaker files into your online test or you can assign questions from your question bank or simultaneously upload and assign questions into a test. Using online exam software you can create topic-wise tests, subject-wise tests, or full mock test series and provide AIR (All India Rank) along with general rank within your class.
Softfixer is a leading agency of online examination software in India that provides its product with the name of ScoreExam. 500+ institutes and organizations across Indian use our online examination software. All these organizations find Softfixer the best online examination software and a very handy tool, for the assessment of their students.
Highlighted Features of Online Exam Software
Test Scheduling
Detail Analytic Report, Analytics with Ranking, Percentile, Subject Wise, Topic Wise, and Question Wise Analysis
AIR (All India Rank)
Numpad For Integer's Type Questions
Range Based Questions
Partial Marking Options for IIT Mains and Advance
Bulk Question Upload From Word File and Page Maker
Bulk Question Uploads Support For Equations, Diagram, Images, and Text
Test Recalculation Available in Admin
Question Bank
Auto Practice Portal for Students Using AI (artificial intelligence)
Assignments
Online Exam Software App and Website portal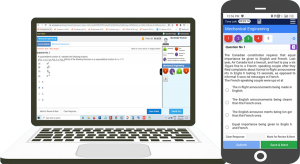 4.8 out of 5 based on 22 Reviews.
Softfixer provides handy analytics of assessment, to students and admin in their online examination software.
For Student
Scorecard- 3d Graphics report with class and AIR rank.
Question Overview- list of all questions with status right or wrong, time take of question and score
Subject Report- Details analytics of test subject-wise.
 Comparison- Comparison with toppers
For Admin
Overall Report
Subject Report (details right wrong question, marks and time taken)
List of students who didn't attempt the test with their name and contact number.
List of students who starts tests but did not submits.
Question- Question-wise statics number of students who use online quiz software you can create a quiz for your students and also provide previous year question papers.
Using online practice software students can easily test their command on a particular topic, chapter, or subject by AI-based Softfixer practice tool.
Send notification to a batch or all students,  push notification in android, and SMS and Emails too.
Using Softfixer online exam software examination institutes and organizations can also sell their online test series to outer students without any trouble. Institutes can choose their own choices payment gateway like (PayUmoney, Instamojo, and Razorpay) in just one click they can start to receive money in their own bank account. for more details, you can get an online exam software free demo.
Student Panel:-
Login:  Student login and sign up form
My Profile: Student profile, adds, delete and edit any information
Home: Student name, test summary, latest package, schedule of the test, take the test
My Test: Number of tests and buy packages of test
Report System: Scorecard of the student with pie cart, time management of test, question report (question base analytics system, solution, compare yourself, difficulty level, and topic report)
Buy Package: Students can check and buy a number of packages
News & Events: Students get information of upcoming exam and the date
Message Get Way and E-mail: Integrate message get way in the student profile
Test Platform: Section base test system, show question only that subject
Main Feature of Test: Skip, Save, Mark for reviews, Clear option, Submitted
Admin Panel:-
Super Admin and Editor: Super admin give right to employs for edit in admin panel
Add Student: Basic information, import student through file, activation, export file, send a custom notification to all through message and email
Test Manager: View all tests, create a new tests, test package, create test package through number of tests like 11, 20, 30 test, etc.
Course/subject/ topic: create topic/ course/ subject of test
Create Test: Test name, topic, test types (practice, ranking), start time, end time, start date, end date, duration of the test in min (120), total question, total marks, instructions, test permission for student, subject
Time Table: Starting time and end time, starting date and end date, set duration of the test.
Test Package: Create test package, view all buyers, total test package, create coupons, total sales.
Total Question: View all questions, edit, delete.
Question Types: Manual (MCQ single answer, MCQ multiple answers, DTQ integer types answer, PTQ passage type, Matrix).
Add Question: Add question through doc file (Microsoft Word).
Question Marking: Positive and negative marking of question.
Package: Create package for student, add, edit and delete any package.
Reporting: Admin can check all reports of test series like number of students, how many students take tests on this topic. Student notification.
News and Event: We will update news and event on the home page
Message Center: Send message to all center students, query students, faculty, promotion of package
Payment Gateway: Integrate payment gateway
Frequently Asked Questions
Why SoftFixer is the best online exam software? 
Softfixer is providing online exam software since 2011 and we continue improving our exam platform and are committed to providing robust and error-free online examination software to our clients.
What are the main features of an online exam platform?
 We provide exactly the same exam scenarios that students face in real exams, like (IIT JEE online exam software Template, online Gate exam software Template, SSC, Banking, and all other major exams.
Can I take a free Online exam software demo before buying it?
Yes, We provide a demo of the student and admin panel to see the demo click here to demonstration page ScoreExam
Can I integrate SoftFixer online examination software with my own website?
Yes, We can host this on your own website subdomain. We, will, provide you white label and your own branding subdomain and Andriod App.
 Is Softfixer online exam software open source?
No, softfixer online exam software is not open source. Softfixer has copyright online exam software.