Softfixer Online Exam software Has Everything  That You Need For Your Students
Real online exam software scenarios for IIT JEE Main, Advanced, NEET, Gate, IAS, SSC, Banking & other exams. Using Softfixer online exam software you can create high-stakes exams or practice exams using 4 simple steps. You can directly upload questions from word or PageMaker files into your online test or you can assign questions from your question bank or simultaneously upload and assign questions into a test. Using online exam software you can create topic-wise tests, subject-wise tests, or full mock test series and provide AIR (All India Rank) along with general rank within your class.
Softfixer is a leading agency of online examination software in India that provides its product with the name of ScoreExam.700+ institutes and organizations across Indian use our online examination software. All these organizations find Softfixer the best online examination software and a very handy tool, for the assessment of their students.
Highlighted Features of Online Exam Software
Test Scheduling
Detail Analytic Report, Analytics with Ranking, Percentile, Subject Wise, Topic Wise, and Question Wise Analysis
AIR (All India Rank)
Numpad For Integer's Type Questions
Range Based Questions
Bulk Question Upload From Word File and Page Maker
Bulk Question Uploads Support For Equations, Diagram, Images, and Text
Test Recalculation Available in Admin
Question Bank
Auto Practice Portal for Students Using AI (artificial intelligence)
Assignments
Online Exam Software App and Website portal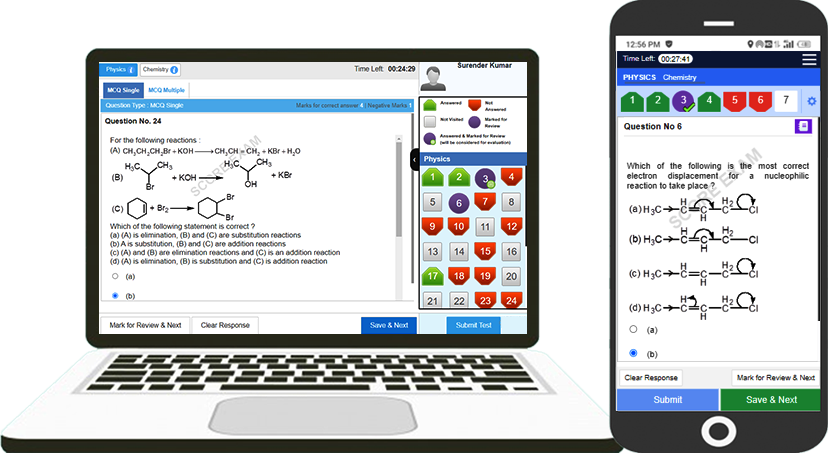 4.8 out of 5 based on 22 Reviews.
Softfixer provides handy analytics of assessment, to students and admin in their online examination software.
For Student
Scorecard- 3d Graphics report with class and AIR rank.
Question Overview- list of all questions with status right or wrong, time take of question and score
Subject Report- Details analytics of test subject-wise.
 Comparison- Comparison with toppers
For Admin
Overall Report
Subject Report (details right wrong question, marks and time taken)
List of students who didn't attempt the test with their name and contact number.
List of students who starts tests but did not submits.
Question- Question-wise statics number of students who use online quiz software you can create a quiz for your students and also provide previous year question papers.
Using online practice software students can easily test their command on a particular topic, chapter, or subject by AI-based Softfixer practice tool.
Send notification to a batch or all students,  push notification in android, and SMS and Emails too.
Using Softfixer online exam software examination institutes and organizations can also sell their online test series to outer students without any trouble. Institutes can choose their own choices payment gateway like (PayUmoney, Instamojo, and Razorpay) in just one click they can start to receive money in their own bank account. for more details, you can get an online exam software free demo.
Why Online exam software is so useful.
Online exam software helps in assessment by providing a convenient, efficient, and secure platform for conducting exams, assessments, and quizzes. Some ways online exam software helps in assessment are:
Automated grading: The software automatically grades multiple-choice, integer type, single choice, true/false, and short answer questions, saving time and reducing human error.
Real-time analysis: The assessment software provides real-time analysis and insights into student performance, making it easier to identify areas for improvement.
Convenient scheduling: The software allows for exams to be taken at any time, from any location, making it easier to accommodate a large number of students and different time zones.
Secure platform: Online exams software are more secure than traditional paper-based exams, as the software can prevent cheating and ensure the authenticity of exam results.
Easy question creation: The software software provides an intuitive interface for creating, editing, and organizing questions, making it easier for educators to create exams and assessments.
Convenient administration:  Softfixer online exam software can be accessed from anywhere with an internet connection, making it easy for administrators to manage exams and assessments remotely.
Time-saving: Online exams are faster to administer and grade than traditional paper-and-pencil exams, reducing the time required to complete the assessment process.
Customizable: Softfixer Online exam software often allows for customization of exams, including the number of questions, types of questions, and format.
Improved accessibility: Online exams can be taken by students with disabilities, who may find it difficult to complete traditional exams.These benefits make online exam software a useful tool for online assessment, allowing for more efficient, secure, and accurate assessments.
Frequently Asked Questions
Why SoftFixer is the best online exam software? 
Softfixer is providing online exam software since 2011 and we continue improving our exam platform and are committed to providing robust and error-free online examination software to our clients.
What are the main features of an online exam platform?
 We provide exactly the same exam scenarios that students face in real exams, like (IIT JEE online exam software Template, online Gate exam software Template, SSC, Banking, and all other major exams.
Can I take a free Online exam software demo before buying it?
Yes, We provide a demo of the student and admin panel to see the demo click here to demonstration page ScoreExam
Can I integrate SoftFixer online examination software with my own website?
Yes, We can host this on your own website subdomain. We, will, provide you white label and your own branding subdomain and Andriod App.
 Is Softfixer online exam software open source?
No, softfixer online exam software is not open source. Softfixer has copyright online exam software.
Can i conduct multiple type of exam in single platform.
Yes, Softfixer provide you many real exam layout to conduct online iit jee manis and advance exam layout, gate exam layout, Neet exam layout, CBSE layout, SSC and banking layout, IAS PCS -j exam layout and many more,